Property management is never a "set it and forget it" type of situation. Even a building full of model tenants needs some occasional maintenance, and accidents are inevitable.
Good management is not about avoiding problems, it's about solving them efficiently. Many things can get in the way if you don't establish a direct channel of communication between your tenants and your team. You need an easy way to reach them, and for them to reach you.
You need something like Building Stack's Communication solution.
With a unified messaging platform and handy collaboration tools, Building Stack offers the quickest path from problem to solution. If the excuses below sound familiar, then our Communication plan was made for you. 
"Sorry, your message must have fallen through the cracks."
Every day, your e-mail inbox is flooded with messages from coworkers, potential tenant applications, invitations to special events, and bills, to name a few. As a result, your tenant's request for another spare key might not get the attention it deserves in this crowded space.
Building Stack offers a ticket system that groups all your tenants' issues in one place. So instead of several e-mails, texts, and voicemails stored across various inboxes, all your issues are neatly kept together on the same platform, no matter which device they were sent with. New requests are clearly marked as such until someone from your team reads them, so you have a clear view of what needs to be done.
"Does anyone have any updates on this?"
Stop refreshing your inbox ten times a day just in case someone replied to your requests. With Building Stack's customizable notification settings, you get instantly notified as soon as a ticket is created or updated. You can be informed of updates by e-mail, text, voice message, mobile push notification, or any combination of those options.
Because we all have different habits, each user can set their own notification preferences both at the account level and for each ticket. You can even specify the times at which you do not want to be disturbed, so that you don't get woken up at 3 am because a tenant needs help replacing a light bulb.
"Did someone notify the tenant?"
There are two types of tickets in the Building Stack platform. Employee tickets are only visible internally, while tenant tickets can also be created by or shared with tenants.
When a tenant is added to a ticket, they can see the messages and updates regarding the issue. They can add their own comments or questions, and of course, they get notified of updates in real time, just like you.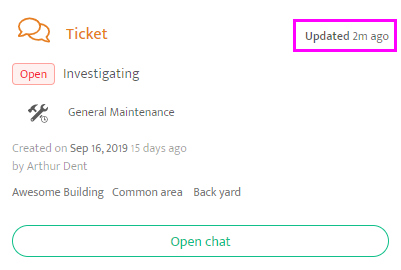 Through this transparent approach, you are providing your tenants with a clear view of each step in the problem solving process. You don't need to constantly relay information, and they don't ask you what is going on every other day.
"I know you wrote to us last week, but I just got your message today."
As the main point of contact for your tenants, you often have to dispatch requests to the appropriate team member, which takes a lot of time out of your day. And what if you're out of office? Some problems can't wait that long. Fortunately, there is now a way to do this without your intervention.
With Building Stack's auto-assign features, tenant tickets are automatically distributed to employees according to their category and priority level. For example, you can assign all "water damage" issues to your plumber, and all "urgent" issues to the live-in superintendent in order to speed up the resolution.
That way, even if you are away for a week, new tickets still get assigned to the right employee, repairs are done faster, and your tenants remain happy.
"What is going on with this issue? Have we e-mailed the contractor yet?"
Besides messages from your coworkers, a ticket also features an easy-to-update status and sub-status that lets everybody see what is going on at the first glance, right from your ticket list.
Look at a ticket's status to know which issues are still unopened, which are in progress, and which have been resolved. The sub-status gives you more insight on the actions that have been taken to solve the problem.

You now have a quick and easy way to see how each issue is progressing without opening them one by one. It also helps you know who to contact when a ticket has been left on the back burner for too long.
"I thought this had already been taken care of."
Once an issue is resolved, you can mark the corresponding ticket as Complete, and it will automatically be moved to the archived tickets section of the platform. Consequently, your current ticket queue is not cluttered with issues that have already been addressed. You see all tickets for which some action is required, and nothing more.

Archived tickets are never deleted from the platform, and you will always be able to view them for tracking purposes. They are kept in a separate list that you can search, sort, filter and export.
"I'm not sure where my colleague is right now; it could take them a while to get to your building."
It can be hard to keep track of your team members when they spend their day on the go or helping tenants. If you often find yourself wondering who would be the best person to go check on an issue right now, just enable the team map* in the Building Stack application.
The team map uses the GPS tracker of your employees' phone to give you a visual representation of your team's whereabouts. You can even set a tracking schedule so that off-duty employees don't show up on the map.
So if you receive an urgent request for maintenance, you can quickly dispatch the person who is within closest proximity of the job, thus reducing unnecessary commuting and optimizing the efficiency of your team.
With Building Stack's Communication solution, you can finally stop explaining why problems have not been solved yet, and simply start solving them!
*Always check the local laws and make sure to get an employee's authorization before enabling Building Stack's geo-location feature. Employees will be notified when their location is being tracked.
Are you looking for innovative ways to improve communications between your team members and tenants? Book your free demo of Building Stack today!