Day after day, the Building Stack team strives to improve its user and customer experience. Sometimes, it's by fixing a tiny bug, and other times, it's by adding a feature that we think you will find useful.
We would like to share with you the new features that were recently added to the platform.
A new way to share documents
Available with: All Building Stack plans
Documents in sidebar menu
You might have already started using this feature, but we hadn't had a chance to talk about it yet. As you may have noticed, a new section is accessible in the sidebar menu: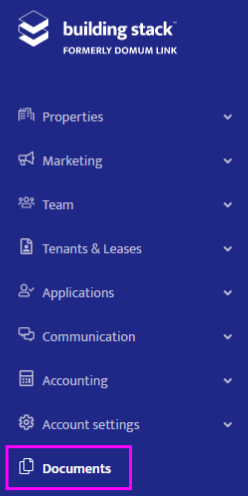 The Documents module is a convenient way to share files with both your team and your tenants. It is particularly useful to store documents by associating them to a building, unit, tenant or lease, as opposed to simply uploading documents in a ticket. You can now share a signed lease with a tenant, or add a refrigerator's warranty information to a unit.
You can also use the Documents module to organize files internally and view, search, sort or filter them in one place: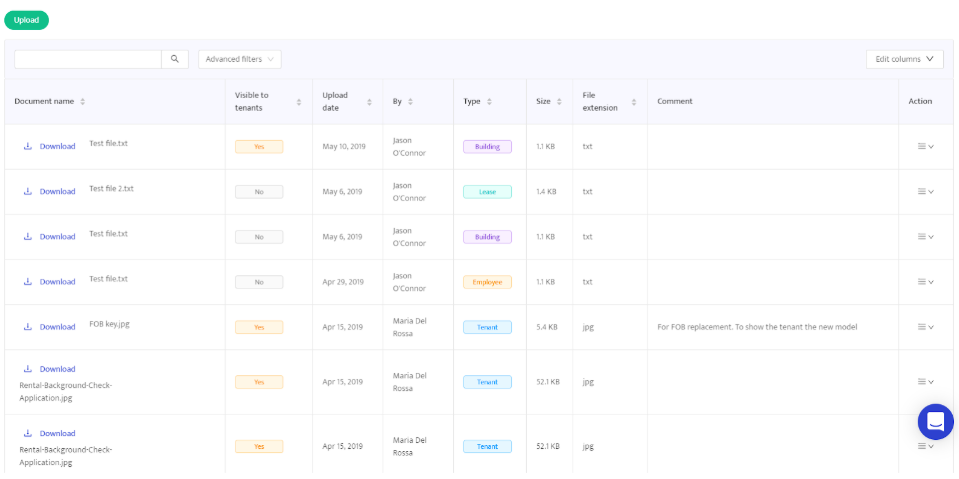 Management fees for online payments
Available with: Online Payments
Accounting > EFT reports
After numerous client requests, we are now offering landlords the option to absorb part or all of the online convenience fee for online rent payments. This is a great way to encourage tenants to sign up to Building Stack and pay their rent online. It will also help you spend less time chasing your payments at the beginning of the month.
You will now see a new column called Management fees in the EFT report, showing the amount of fees that you are paying for each transaction, if you choose this option. This feature is only possible for payments made through the bank (not by credit or debit card), and the fees will be deducted from the total rent amount transferred to your bank account.
If you would like to start covering the online convenience fees for your tenants, simply contact our support team, who will be more than happy to set this up for you.
Customized building code
Available with: All Building Stack solutions
Properties > Buildings > Building details page
Previously, when you created a new building, a building code was automatically generated. This is a unique, short identifier for your building, used in various reports such as your rent roll.
From now on, you will be able to choose your own building codes, so that you can find your buildings more easily in reports. You can customize a building's code from the details page: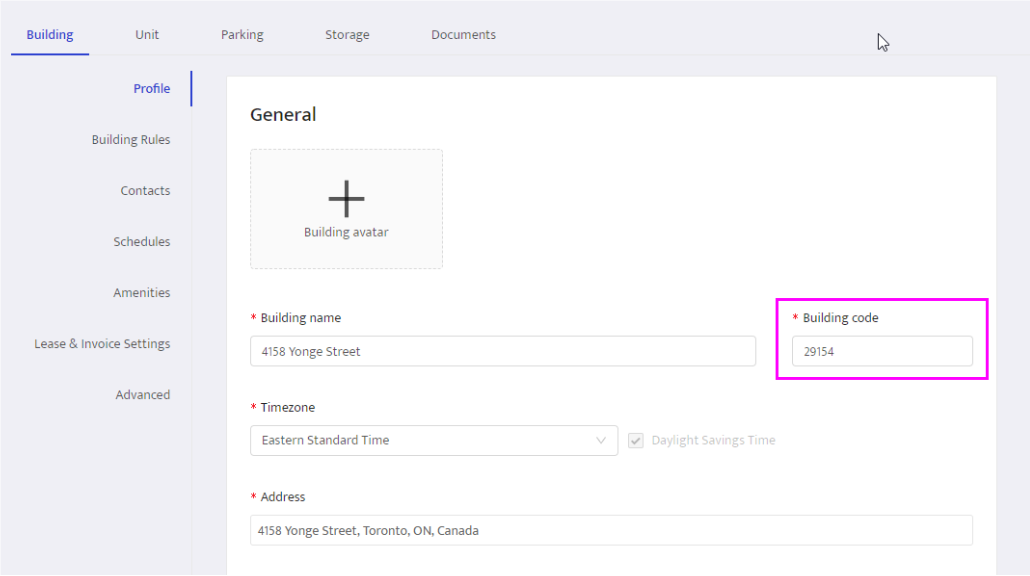 Login to your account now to give your existing buildings a code that you'll recognize in your reports!
Role field on employee creation page
Available with: All Building Stack solutions
Team > Employees > Create employee
You can now add employees to the platform faster than ever! With the addition of a Role drop-down menu directly on the new employee creation form, you no longer have to edit an employee's details later to assign them a role. With this update, you can select the desired role from the list of preset (or custom) roles available on your account.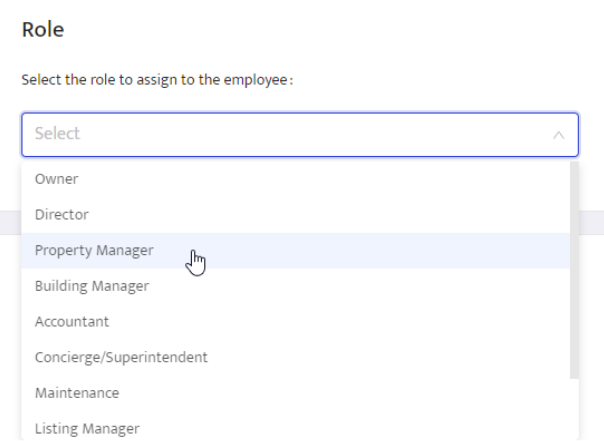 New display and filter option for Balance and Security Deposits
Available with: All Building Stack solutions
Accounting > Payments & Balance > Balance
Accounting > Payments & Balance > Security Deposits
We added a Tenants column to the lists on the Balance and Security Deposits pages (under the Accounting section), so you can now see which specific tenants have outstanding balances more easily. To show tenant names, simply click on Edit columns on either of those pages and check the Tenants box.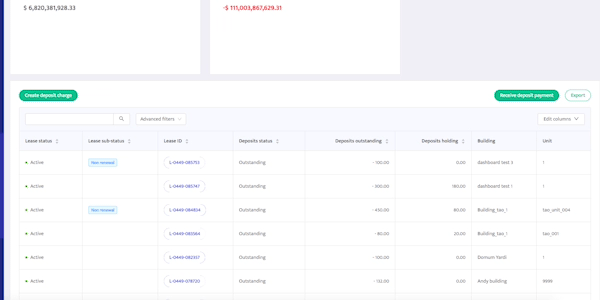 You can also use Tenants as a filter option on the Balance and Security Deposits pages. Simply click on the Advanced filters button, scroll down to Tenants, then select as many tenants as you wish.          
Once the filter is applied, only the data from leases associated with selected tenants will be displayed. However, you will still see the names of any roommates for corresponding units under the Tenants column.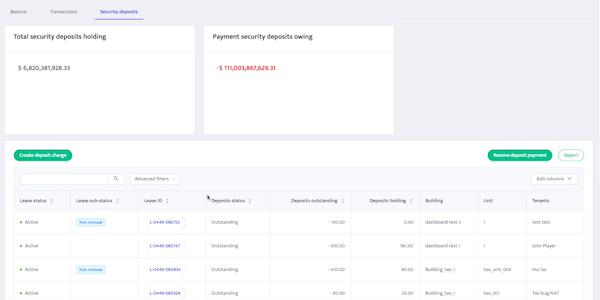 Try out these new options today from the Accounting module of your account!
Create a ticket for a unit with upcoming tenants
Available with: Communication solution, Full Stack
Communication > Ticket > Create ticket
When creating a ticket, you can now see which units have an upcoming lease directly in the Unit drop-down menu, under Location. Just look for "Upcoming" next to the unit name.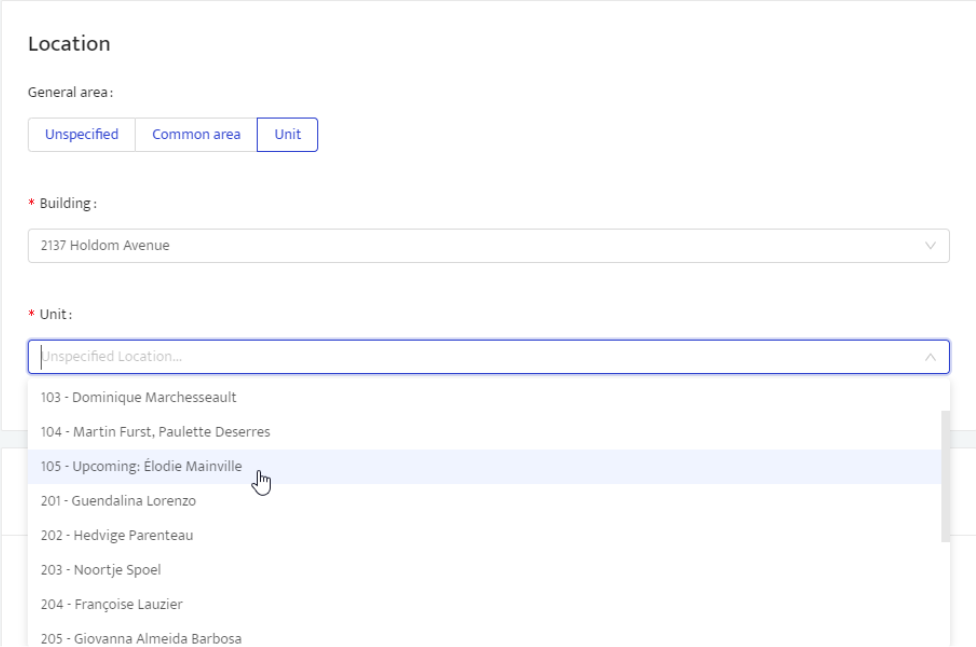 You can take advantage of this clarified view the next time you create a ticket from your Building Stack account. Click here to log in!
Something missing? Let us know!
If there is anything we can do to improve Building Stack, please let us know. Whether you spot a bug, think a process could be improved or have a suggestion for a new feature, your feedback is always welcome. Write us at support@buildingstack.com, and we'll make sure to look into it.