Managing a single rental unit with Excel spreadsheet is no big deal. Five is still feasible. At ten units, it gets tricky. Twenty? Yikes…
So when do you switch to property management software? While there is no definite answer to that question, the time might come sooner than you think. When you get to know them, you'll realize that software applications like Building Stack have all kinds of unexpected benefits that match your budget (we even have free solutions!).
Accelerate your portfolio's growth
Too many owners wait until they lose control of their property portfolio before investing in software. They consider it an unnecessary expense that slows down profitability.
What they don't realize is that a good software solution quickly becomes an essential tool that helps you develop your portfolio. By keeping all your data in one place, you work more efficiently. The time and resources you save allow you to acquire new buildings faster without expanding your team.
Accept online rent payments
Why waste time depositing cheques at the bank when there is a much easier way to collect rent? With an online payment solution, your tenants can send you the rent from the comfort of their own home, and the funds go directly into your account.
Even better, Building Stack is the first company in Canada to offer a free online payment solution designed for building owners of all shapes and sizes.
Our portal offers many benefits:
Fast and secure payments

No-fee bank transfers

Payments by credit or debit card

Automatic monthly payments

Payment processing by the landlord

Detailed reports

SSL data encryption

And much more!
Click here to learn more.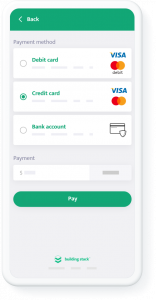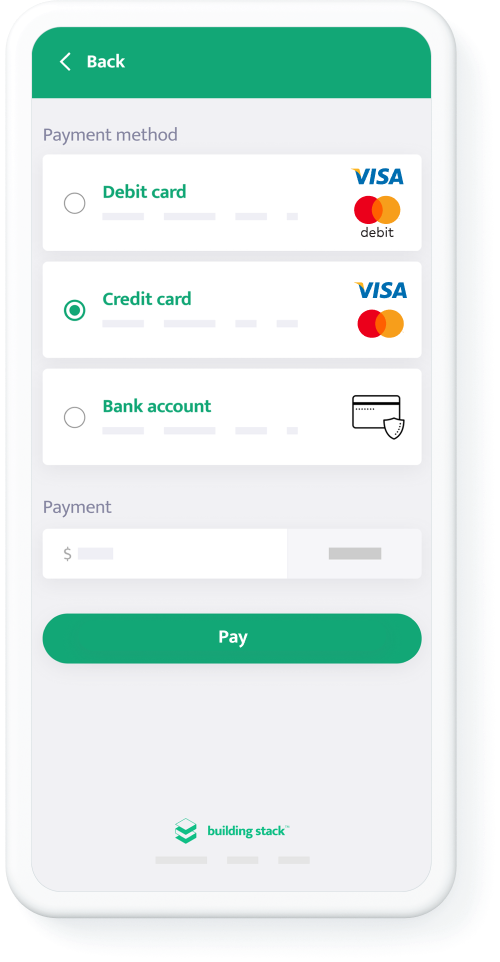 Track your finances
Collecting rent is only half the battle; you need to make sure all the numbers line up every month. Did you receive all your payments for this month? With Building Stack, you can find the answer to that question at a glance, without your calculator.
Transactions made through our platform are automatically logged in reports, so you instantly know which lease has an outstanding balance. You can even set reminders to avoid late payments.
Additionally, you can track expenses related to your buildings such as renovations or professional services. Log expenses' dates, amounts and categories, and add their payment status to stay on top of your company's financials. 
Make sure your tenants are happy
Renters' expectations have evolved. With mobile devices and e-commerce being commonplace, consumers are now looking for one-click solutions available anytime, anywhere. Rental services are no exception, and landlords must adapt to this reality.
Luckily, Building Stack tenants have access to our tenant portal, where they can view important building information and lease documents, report issues, send messages to their landlord and, of course, pay their rent.
As a property manager, you can sort, filter and prioritize requests, and automatically send them to the right person. As a result, communications between you and your residents are completely transparent, and messages no longer get lost in your personal inbox.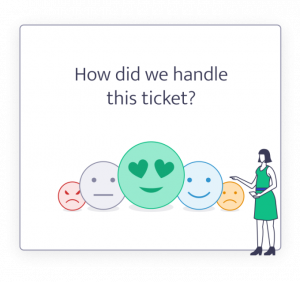 Keep a virtual paper trail
Another great benefit of online communications is that nothing ever gets erased. So in case of a dispute, just browse your system to find all conversations with the relevant tenant, including read receipts, sorted by date.
The same goes for rent payment dates and amounts, tenancy history and anything else you store in Building Stack. Everything is saved indefinitely, without taking any space in your filing cabinet!
Easily find new tenants
A vacant unit is not an enviable situation. When a tenant leaves, your priority is to find a new one as soon as possible.
Without software, this means writing listings, publishing them one by one, going through a bunch of disorganized e-mails… And don't forget to take down the listing once a new lease is signed!
But with the right software tools, this process can be as simple as a few clicks, which will save you precious hours around moving season. Building Stack generates listings from the information you already input in the system and automatically publishes them on your favourite websites.
Not only do we help you find tenants, we also help you find the right tenants. From our platform, you can send credit checks by e-mail to potential renters, and receive a detailed report that includes renting history, criminal background and employment status.
And when you have finally found the perfect candidate, the listing is automatically removed, or replaced by one for your next vacant unit.
View your data anywhere
Property owners know that work doesn't happen only in the office. Whether you need to make a quick call between two apartment visits or quickly check some information before meeting a tenant, even the biggest briefcase can't contain everything you could store in the cloud.
Installing the Building Stack app on your iOS and Android devices allows you to access all your account data wherever you are, and update it in real time for all the users in your account. No need to wait until you are back in the office.
If you are looking for an efficient way to manage your rental properties. Building Stack has got you covered. We have plans for all kinds of portfolios, including free solutions with no monthly charges.
Get a free demo of our products to find the right Building Stack solution for your business!