The Building Stack team has been working hard to make its platform the best property management application in the market. As a result, we have some exciting new features to present to you today.
Read on to find out more about the latest improvements of the Building Stack experience!
Overview cards
Available with: All Building Stack solutions
Various locations throughout the platform
Some modules of our platform now feature overview cards. These provide you with an instant view of the information you need in an easy-to-read format. 
The statistics and charts of the overview cards are prominently displayed at the top of the page for your convenience: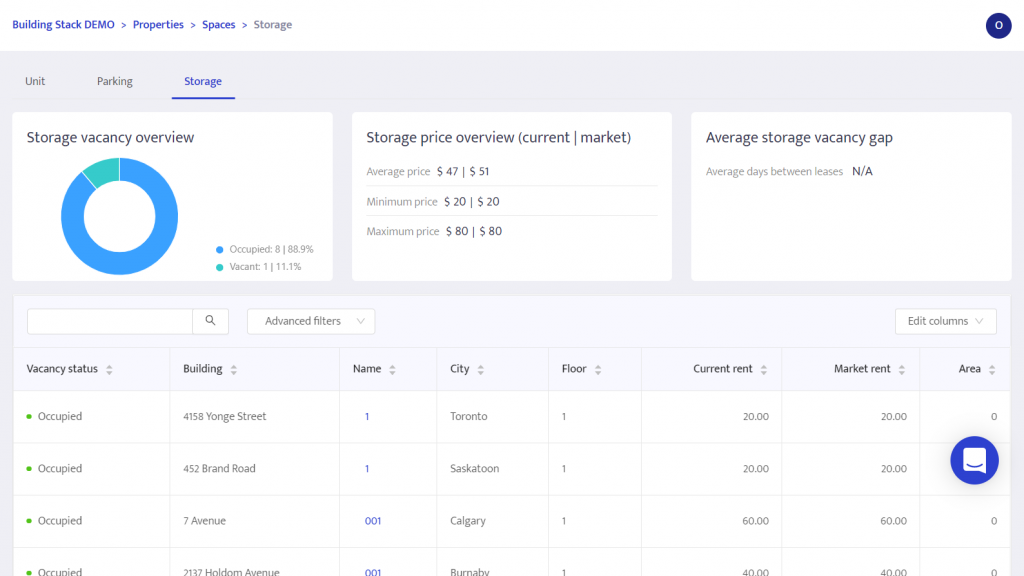 Look for new overviews on the following pages of Building Stack:
Buildings

Spaces (Units, Parking and Storage)

Tenants

Balance

Documents
Here are a few examples of the type of information you will find in overview cards:
Log into your Building Stack account now to see your rental information from a whole new point of view!
Dashboard
Available with: All Building Stack solutions
Displayed upon login
This is by far the biggest update we are presenting to you today, and one of our proudest achievements of the last few months. The next time you log into Building Stack, you will be greeted by our brand new Dashboard!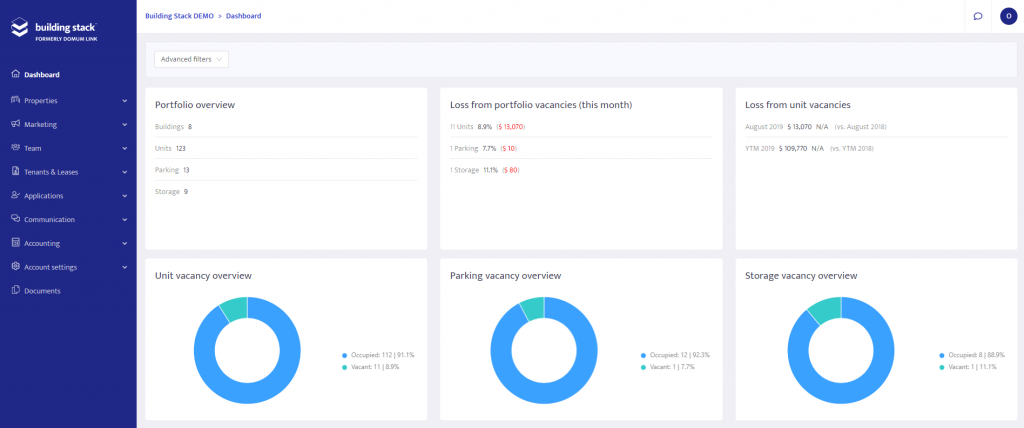 Also accessible from the sidebar menu, the Dashboard presents a summary of your account's activity by grouping all of the platform's overview cards on one page. You can then immediately see how business is going, and what needs your attention.
You can also use filters to only display the information about specific buildings. The filtered cards will appear in blue: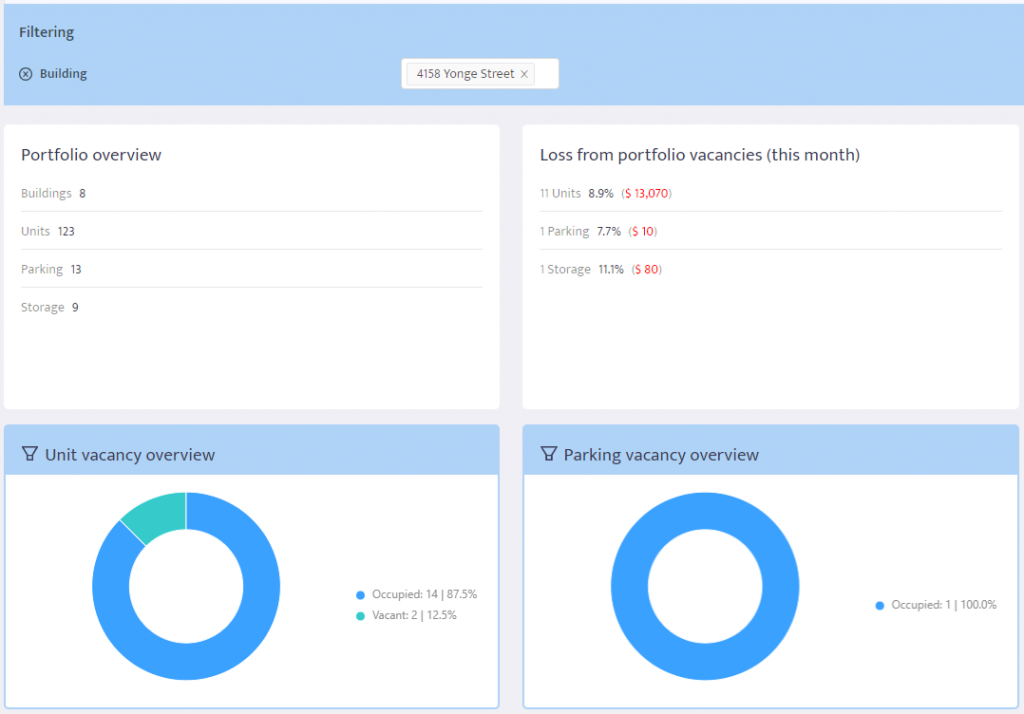 Check out your new Dashboard on Building Stack to get a complete overview of your company!
Revamped ticket module
Available with: Communication solution
Communication > Tickets
We recently did some great improvements to our ticket module, especially the ticket creation process.
Besides adding helpful instructions to guide you along the way, we made it easier for you to add tenants and employees to a ticket through an intuitive popup window: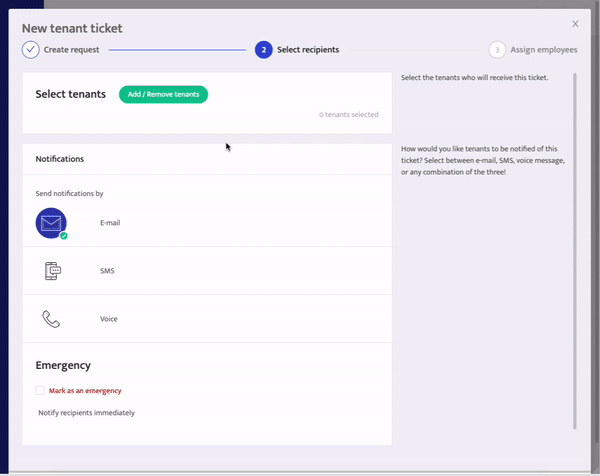 You may also have noticed that the ticket details page has a new look!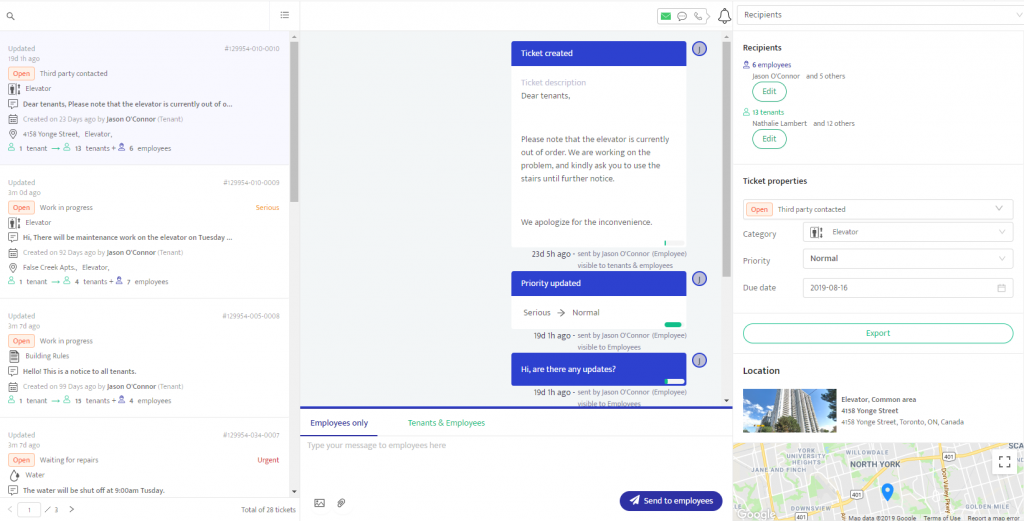 But don't worry: only the visual interface of the page has changed. We made sure that all the great features you love are still available and easy to find.
Check out our new Ticket page on your Building Stack account!
Importing spaces and tenants
Available with: All Building Stack solutions
Properties > Buildings > Any building
Tenants & Leases > Tenants
Did you just add a large property to your portfolio? If so, first of all, congratulations! But also, fear no more: our batch import tool is finally here!

With this convenient new feature, you can add multiple units, parking spaces, storage spaces or tenants to your account at the same time, potentially cutting down hours of admin time.
While we provide you with a fillable import template, you can use any Excel or CSV file, as long as it includes all mandatory fields such as market rent for spaces, or first and last name for tenants. 
Simply align each spreadsheet column with the corresponding field in Building Stack, and all the spaces or tenants will be created instantly.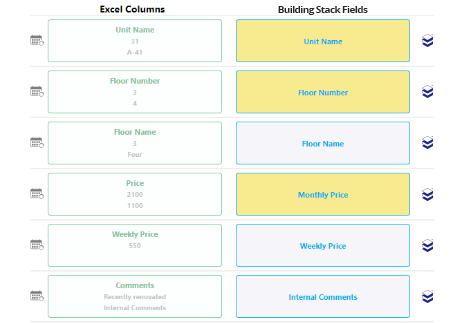 Batch imports also enable you to create leases faster, knowing that the spaces and tenants you need are all set up in Building Stack. Just select them from the list instead of creating them one by one!
Please note that this feature is only available for users with Administrator rights within the platform.
Autopopulated Pending tenant information
Available with: All Building Stack solutions
Tenants and Leases > Tenants > Pending Tenants tab
When a tenant sends you a login request in order to create their Building Stack account, their information will appear in the Pending Tenants tab of the Tenants page.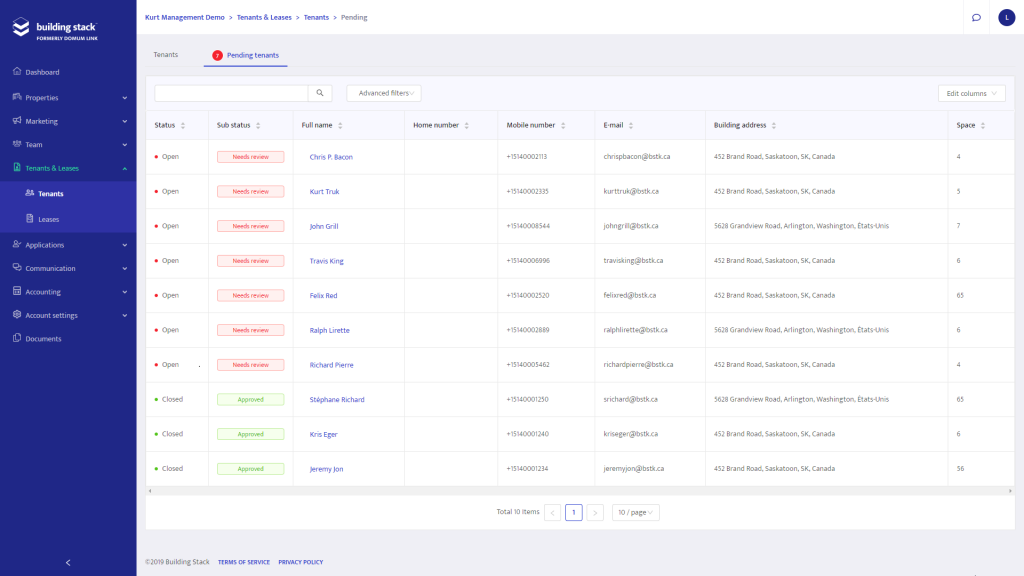 If you have already created this tenant in your system, then the request will be merged with the existing tenant. Otherwise, you have to create a new tenant.
To speed up the process, the information that your tenant has entered in their login request is now automatically populated in the tenant creation form.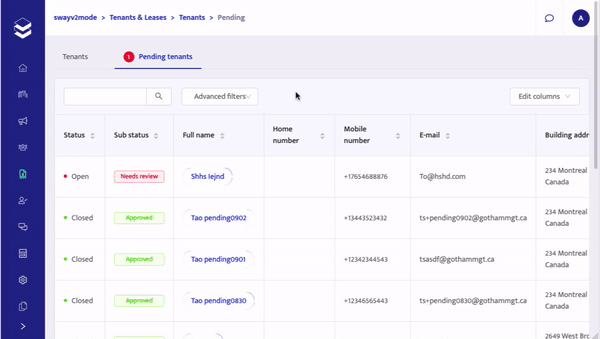 You'll be able to create new tenants in a few clicks by logging into your account the next time you receive a tenant request!
New CSV reports available
Available with: All Building Stack solutions
Various locations throughout the platform
In order to increase Building Stack's compatibility with other tools that you use every day, we added an Export button on multiple pages of the platform. Click on this button to generate CSV reports that are easy to share with anyone.

You can also use the filters to export only a specific part of your data, so your external consultants only see what they need to see.
The new Export buttons are located on the top right corner of the lists on the following pages:
Properties > Buildings

Properties > Spaces > Units

Team > Employees

Tenants & Leases > Leases

Tenants & Leases > Leases > Any lease > Balance

Tenants & Leases > Leases > Any lease > Security Deposits
Log into Building Stack to generate reports and share your data with other accounting systems!
Any questions?
Don't worry, our support team is still only a few clicks away. We simply changed the location of our chat button:

What else is missing?
We want you to enjoy Building Stack as much as we do. Is there something you wish you could be doing on our platform? If so, write us at support@buildingstack.com. We are looking forward to reading your suggestions!