The Building Stack Feature Deep Dive series was designed to help you use our platform at its fullest. In each article, we will put a specific feature of our software under the microscope and explain every single detail to you.
In this article, we will be taking a look at the online payment capabilities of the Building Stack platform.
Online rent payments offer many advantages over cheques or cash transactions. Not only do they save you multiple trips to the bank, but they also increase the security of your transactions and reduce NSF fees.
Electronic funds transfers are a popular method, but did you know that Building Stack offers several fully integrated online payment options? With this feature, your tenants can pay their rent directly on the platform, while you make your job a lot simpler on the first day of the month.
If you are looking for a better way to manage your finances, read on to know more about Building Stack's online payment solution!
Which payment methods are supported by Building Stack?
The Building Stack platform distinguishes two types of payments: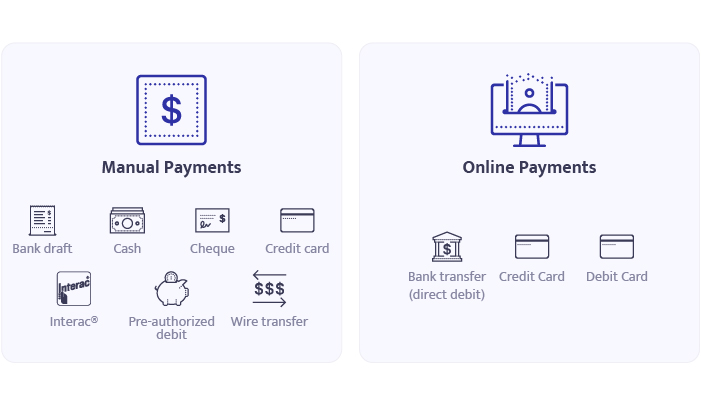 Manual payments are not processed through the platform; you need to enter them yourself in the system. For example, if a tenant mails you a cheque, you have to input the amount and details in the Lease or Accounting module.
Online payments made through Building Stack, on the other hand, are automatically sent to your account and your finance reports, so you don't need to enter them manually.
Why should I use Building Stack's Online payment solution?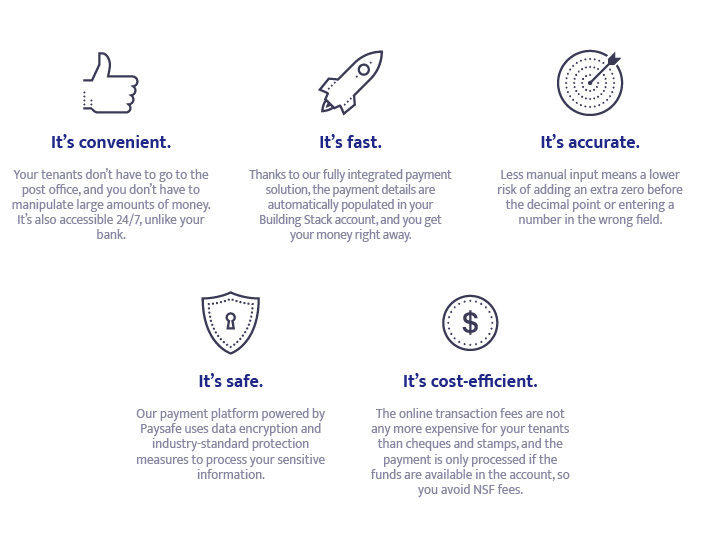 How can I start accepting online payments?
Setting up online payment capabilities for your company is a 5-step process. Don't worry, though: our support team will help you along the way.
Step 1: Create a merchant account
A merchant account is a grouping of all your company's streams of income that come from Building Stack. All your building bank accounts will be kept together under this section.
Most customers only need one merchant account, but you could create two or more if your organization comprises several distinct companies.
Contact our customer support to begin the setup of your merchant account.
Step 2: Set up bank accounts
In order to accept payments in Building Stack, you will need to add at least one bank account to your merchant account. This is where the money from your tenants' rent payments will be deposited.
First, create a bank account with the financial institution of your choice. Then, you can link it to Building Stack during the merchant account creation process.
Step 3: Add buildings and verify your account
Once your bank accounts are added to the platform, you can associate each of them to one or several buildings that you manage. Online payments will only be supported in buildings that are linked to a bank account.
The next thing you need to do after properly adding your buildings is to verify your bank account. This is a crucial step, because online payments will not be enabled in an account until it has been verified by Paysafe, our payment processor.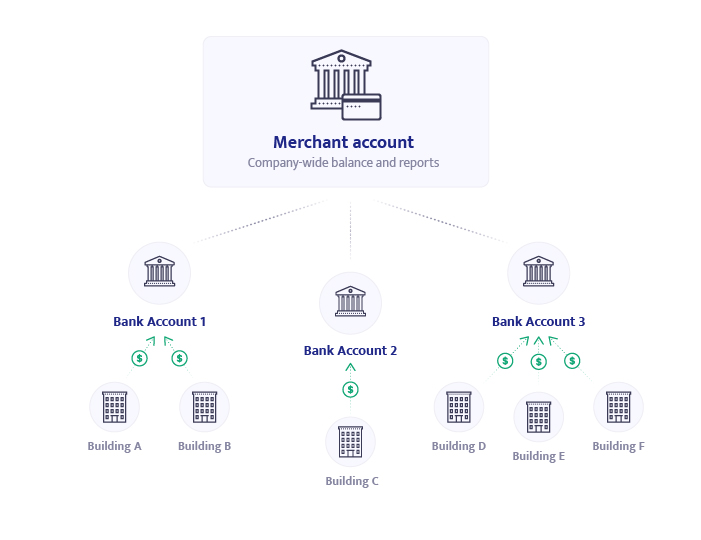 Step 4: Choose a fee charge model
Our payment processor charges a convenience fee for every online transaction made on Building Stack. The amount of the fee depends on the chosen payment method.
By default, the online convenience fees are passed along to your tenants. However, for bank transfers, you can absorb part or all of their value, which is an excellent way to increase usage of our payment platform by your tenants. And the more tenants pay online through Building Stack, the simpler your finances become, so everybody wins!
You can modify your fee charge model at any time by contacting our customer support team.
Step 5: Your tenants set up their bank account
Once our solution is configured on your Building Stack account, your tenants will see the online payment interface on their tenant portal. There are currently three available payment methods: credit card (Visa or Mastercard), debit card and bank transfer.
The first time a tenant does a bank transfer, they will have to provide some financial details in order to link their bank account to the Building Stack portal. Afterwards, they will be able to select their account directly from the payment interface.
If they choose to pay by credit or debit card, they will have to input their card information, like they would for any other online purchase.
EFT reports
The Electronic Funds Transfer (EFT) report presents a breakdown of all the online payments and transactions made over a given period. You will see one report for each of the bank accounts you linked to Building Stack.
To view your EFT reports, navigate to Accounting > EFT reports > EFT reports. Like with any list on Building Stack, you can search, sort and filter the information in the report and edit its columns.
Here is some more information about the content of each column in the EFT report.
Payment fees reports
The payment fees report shows the exact amount and origin of fees that are paid for each online transaction. It is particularly useful if you need to understand why a payment didn't go through.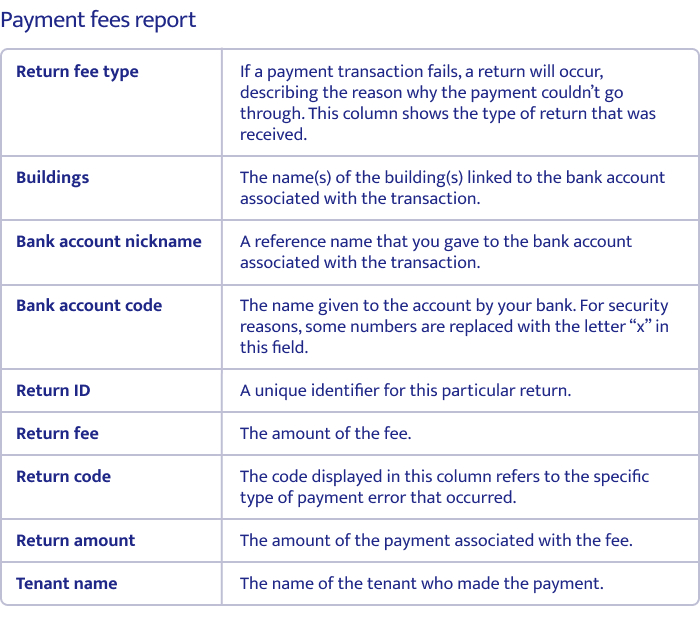 Would you like to give your tenants an easier way to pay their rent? Write us at support@buildingstack.com to get started!