Property management is no cakewalk. Being a building owner requires a lot of work, and it can become overwhelming at times. And then, you start having this nagging feeling that you're forgetting something important. This is where Building Stack comes in.
Not to help you remember every item of your to-do list (although we can do that, too), but to reassure you. There are some things you can forget about. Because we do them for you.
Our powerful Marketing solution automates most of your vacancy listing process, so you can free up some space in your head, and in your day. Read on to know more about the things you don't have to do to find new tenants when you use Building Stack.
You don't have to create listings from scratch.
Enter your building and unit details only once, and the system takes care of the rest. We populate the information across the entire platform and use it to create attractive listings for your vacancies. 
You don't have to choose which listings to publish.
Based on a variety of factors such as rent price and quantity of available information, our algorithm puts all your vacant units in order of priority, so that the most interesting listings get pushed first.
You don't have to copy-paste your listings on multiple websites.
Once your listings are created, they are automatically published online. All you need to do is select the classified ads websites where you want to advertise your units among our ever-growing list of partners, and our system will push your listings instantly, zero clicks required.

You don't have to hire a web designer to advertise your company.
With our intuitive templates, it's easy to create professional-looking, customized websites for each of your buildings, as well as for your entire company. You can even link them to your own domain and track their performance with Google Analytics. We also offer a widget that allows you to display your Building Stack listings on your pre-existing website.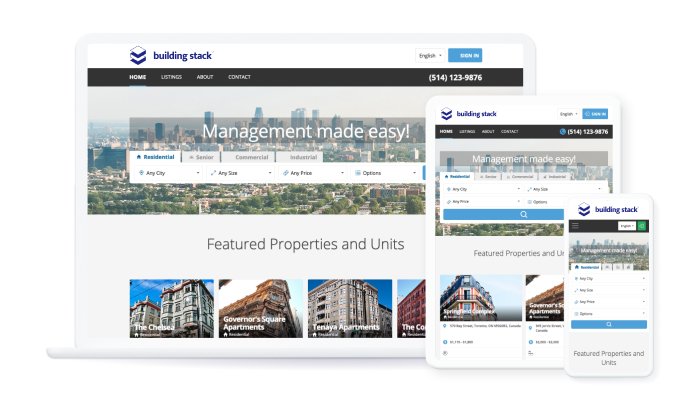 You don't have to update your listings one by one.
Since your listings are directly pulling the information you input in the platform, they are automatically updated as soon as you modify that information. So if you want to reduce the price of a unit, you do it only once, in Building Stack, instead of countless times in all of your live ads. This means the time required to update your listings is reduced from almost an hour to only a few seconds.
You don't have to waste your marketing budget on low-performing listings.
If you choose to increase your listings' visibility with paid ads, our performance reports are a must-have. They give you key insight on which websites and units attract more leads, so instead of making costly guesses, you can spend your marketing dollars where they actually matter.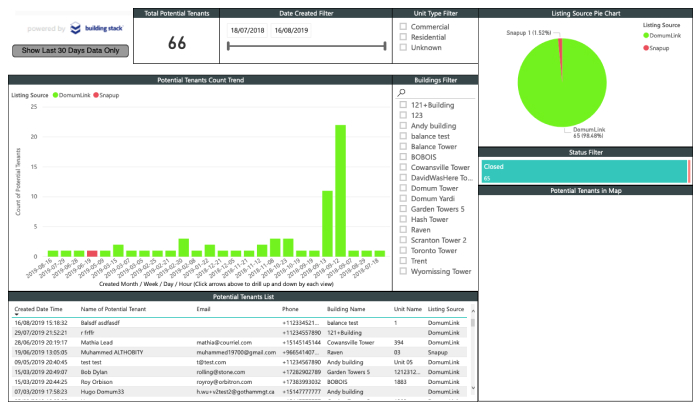 You don't have to forward ad responses to your team members.
When a potential tenant is interested in your unit, they fill out a form with their contact information, which gets automatically sent to the agent you selected for that building. Our platform also makes your listing agent's job a lot easier by allowing them to sort and search leads in a list and mark inappropriate requests as spam.
You don't have to fill out a lengthy credit check request form.
With Building Stack's credit check solution powered by Certn, all you need to get started is a potential tenant's e-mail address. We take care of the paperwork and send you back a detailed report about your lead's credit score, employment information and more.
You don't have to replace your old listings with new ones after you found a tenant.
Once you've found the perfect tenant, just create a lease in Building Stack. The newly occupied unit will be removed from your list of vacancies, and its online listing will be replaced with one for the next vacant unit in your order of priority, all while you just sit there and watch the rent money come in.
At the end of the day, thanks to Building Stack's Marketing solution, all the time you would have spent doing those things can be dedicated to something more productive. Whether you use it to look for real estate opportunities and expand your property portfolio or to sip refreshing drinks on a sandy beach, that is entirely up to you.
Do you want to find tenants faster with a software that does all the work for you? Book a demo of Building Stack's Marketing solution to get started!